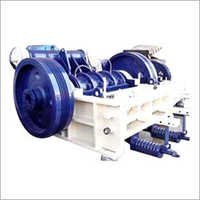 Grease Based Jaw Crusher
Product Description
Owing to our in-depth expertise in this domain, we are engaged in manufacturing, exporting and supplying an extensive range of Gresse Based Jaw Crusher. The provided jaw crusher is used to crush very hard rock like Granite, black basalt, river gravel, black trap rock, Iron ore, coal and more. Offered crusher is manufactured using best quality components and ultra modern technology by our dexterous technocrats as per the international market standard. Besides, this Gresse Based Jaw Crusher can be purchased from us at market leading prices.
Features:
Superior efficiency
User friendly design
Easy to operate
Negligible maintenance
Our company manufactures and exports Gresse Based Jaw Crusher. Hard rocks, like river gravel, iron ore, granite, black basalt, black trap rock coal and more can be crushed by this crushing machine. Customers can buy this grease based jaw crusher for its user friendly design, friendly efficiency, easy operation and negligible maintenance
Other Information:
Grease Based Jaw Crusher is fabricated with the mechanism that utilizes grease to lubricate the self aligning ball bearings and other components. This simple design and easy to operate machine can be best used in remote areas and higher altitudes.
The service life of Grease Based Jaw Crusher is longer in comparison to other crushers. Working on the principle of crushing without rubbing with more impact force, this crushing machine delivers uniform shaped output material. During the crushing process, less dust is formed and the jaw doesn't wear and tear.
This crusher can be utilized in most rugged environment and requires minimum maintenance. This machine is configured with upward facing toggle mechanism that generates flat oval shaped movement at the moving jaw plate's bottom. High production rate is achieved by the moving jaw's elliptical displacement.
It is possible to increase the capacity of the jaw crusher by continuous as well as regulated material feeding. This jaw crusher can accept high shock loads, while working continuously with negligible maintenance. The operations performed by thus machine can be both, continuous and heavy duty.
This crusher is fabricated in a way that it comprises heavy main body, main frame of single piece standard steel plate, CI fly wheels with heavy outer ring, manganese steel casting moving & fixed jaws, steel swing jaw and large diameters alloy steel eccentric shaft and corrugated surface jaw liners. Once the edge is accurately prepared, the architecture is ribbed and welded.
S. NO.

JAW CRUSHER SIZE

RECOMMENDED

CAPACITY IN TONS / HOUR WITH JAW CLOSED SIDE SETTING

RPM

DRIVE HP

APPROX TOTAL W.T. (TON)

INCH

MM

feed (mm)

size (inch)

20 MM

25 MM

31 MM

37 MM

50 MM

62 MM

75 MM

87 MM

100 MM

125 MM

150 MM

175 MM

200 MM

225 MM

150 MM

175 MM

0.25 "

1 "

1.25 "

1.50 "

2.00 "

2.50 "

3.00 "

3.50 "

4 "

5 "

6 "

7 "

8 "

9 "

10 "

11 "

PRIMARY CRUSHER

1

24 " x 12 "

600 x 300

250

10










28

37

46

56

65

























300 - 320

40

7.6

2

30 " x 20 "

750 x 500

450

18



















70

81

93

116

139
















280 - 300

100

13.5

3

36 " x 24 "

900 x 600

525

21

























112

139

167

195













260 - 280

125

23

4

42 " x 30 "

1050 x 750

675

27

























130

162

195

228

255










240 - 260

150

28

5

48 " x 36 "

1200 x 900

800

32




























185

220

260

290

325







200 - 220

200

42

6

60 " x 48 "

1500 x 1200

1100

44


































325

361

405

444

500

200 - 220

325

70

SECONDARY CRUSHER

7

36 " x 08 "

900 x 200

175

7

21

26

33

39

52


































300 - 340

50

8.8

8

42 " x 09 "

1050 x 225

200

8

25

31

39

46

61

76































300 - 340

60

11.8

9

48 " x 09 "

1200 x 225

200

8

28

35

44

52

69

82































300 - 340

75

13.7
Contact Us
Hawa Magri Industrial Area, Sukher, Udaipur, Rajasthan, 313001, India
Phone :+918068214627